The kit has been designed in order to have a medium power termination usable up to 2.5/3 GHz, it includes all the necessary parts for installation except the heatsink that is not provided.
Regarding the connection to the termination, the kit includes four types of coaxial cables so that the user can choose the solution that is most convenient, however, to achieve the best performance over 1.5 GHz it is recommended to use 141 semi-rigid and handyform oaxial cables.
We suggest to use a heatsink of at least 15 x 15 cm for a continuous usage, this dimension may be reduced if there is a forced ventilation or the usage is not continuous.
The installation is very simple and below there are a few tips to get the best result in frequency, in fact, the printed circuit board included in the kit has not only the purpose of electrically connect the cable with termination, but also acts as an impedance matching circuit, see the instructions below.
To solder the coaxial cable to the metal box you need to use a welder with a good power and a temperature of about 400 °C, it is better if the box is pre-heated with an air heater.
The 4 fixing screws of the termination and the printed circuit board are made of stainless steel so they behave like self-tapping screw into the aluminum box.
Kit content:
1x Milled tin plated aluminium box with cover, external size 30 x 34 x 13.1 mm
4x M2.5 screws, length 25 mm to mount the box on a heat sink (not provided)
4x stainless steel M2.5 screws, length 6 mm to mount the termination and the pcb inside the box
6x 2.5 mm washers: 4 for the M2.5 x 25 screws and 2 for the termination
4x M2.5 nuts for M2.5 x 25 screws
1x 100 mm UT141 semi-rigid coaxial cable with SMA m connector
1x 80 mm SM86 handyform coaxial cable with panel mount SMA f connector
1x 220 mm flexible teflon RG316 coaxial cable
1x 140 mm handyform SM141 coaxial cable
1x Matching printed circuit board
1x 50Ω, 150W, dc - 2.5 GHz termination, Anaren RFP-150N50TE (cod. TN-F9)
A: RF line
B: Pads to short-circuit with the RF line to get the best termination matching (usually just 2 or 3 pads are needed)

A: Keep 1 or 2 mm of space between the termination and the pcb
B: Solder the shield of the cable to the box
TN-F9 termination return loss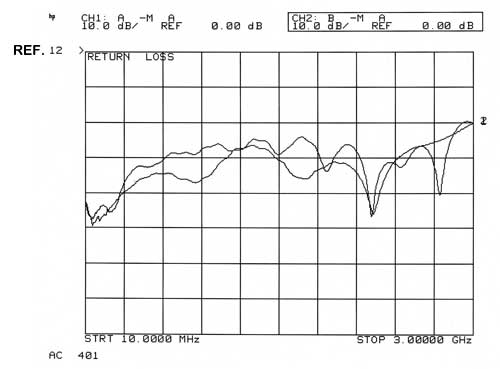 This graph shows the return loss obtained from two assembled kits, with a correct matching it is possible to reach good performance up to 3 GHz .The matching is obtained by using one of the included .141 semi-rigid or deformable coaxial cables.