These connectors are often used as end-launch connectors for pcb for experimental and test circuits.
9.5 x 7.9 mm flange, A = 0.95 mm.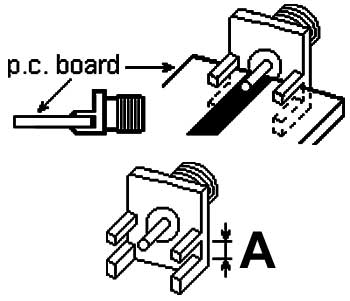 Starting from some years ago some SMA connectors, usually female, are available as end-launch terminal connector for pcb. An interesting and unusual application is to use them on experimental boards or on laboratory prototypes, for example, for a quick test of how a certain filter behaves, or the response of a MMIC amplifier, etc.. all this without having to build a complex circuit board. The main advantage for this particular application is that they can be lined up horizontally, greatly easing the connection of cables attached to the network analyzer.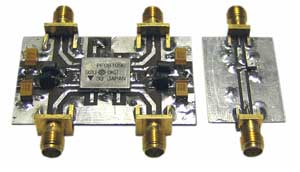 If they are properly installed they can also easily reach microwave frequency and help us in prototype making or testing. This connector is massively used by companies that provide the so called "evaluation board", or in other words the test circuit used for testing the specifications of a small component in RF. Many of our laboratory tests related to our components are made with the help of small test circuits that use these connectors. As a curiosity, there are special versions of these connectors advertized for use up to 50 GHz!