This is a x2 frequency multiplier with SMA connector input at 12 GHz and WR42 waveguide output at 24 GHz, it is a high quality product suitable for radio link applications, frequency sythesizers, beacon transmitters, radar applications, security applications, motion sensors, etc…
It is inserted in a milled aluminum block divided into two parts on a teflon substrate with beam lead multiplier diode and amplifier mounted with wire bonding technology. It is composed of an input attenuator to improve the input matching, pass-band filter, diode multiplier, second band-pass filter and a 100mW @ 24 GHz amplifier with direct waveguide output.
It needs three separate power supply voltages: +5V, -5V and a control voltage from +1.2V to +8.2V to tune the output power or fixed +8.2V to reach the maximum power. The attenuation of the input frequency is guaranteed at about -30dB thanks to a filter before the final power amplifier.

TECHNICAL SPECIFICATIONS

Input frequency: 11.75 - 13.25 GHz
Output frequency: 23.5 - 26.5 GHz (usable over ±1 GHz with lower performances)
Typical input power: +19 dBm
Output power: tunable up to +20 dBm
Attenuation of the fundamental: >40dB (typical)
Power supply voltage: +5V @ 200mA, -5V @ 10mA
Control voltage: from +1.2V to +8.2V (at +8.2V is reached the maximum power of +20dBm)
Size: 78 x 37 mm, h 27 mm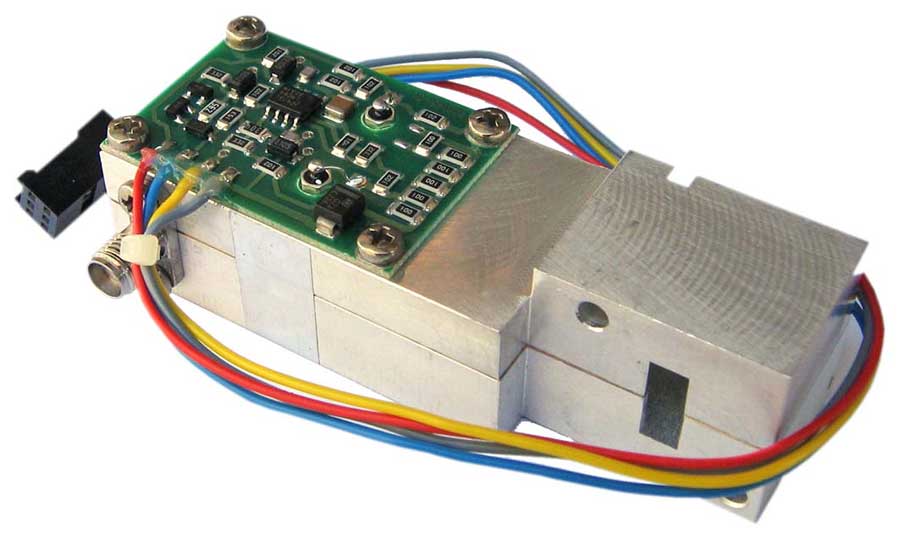 As supplied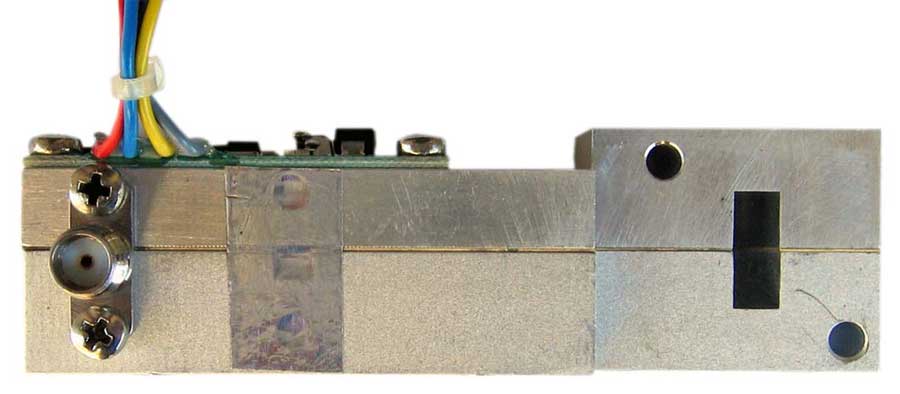 Side view, RF input with SMA connector and WR42 waveguide output