This cable can replace the Harbour Industries SS405 model
PRODUCT DETAILS:
- Jacket colour: Blue
- Jacket material: FEP
- Dielectric: PTFE
- Conductor material: Copper, Silver plated
- Centre conductor diameter: 0.47 mm (single wire)
- External diameter: 2.65 mm
- Impedance: 50 Ω
- Attenuation:
--- 1.07 dB/m @ 2 GHz
--- 1.55 dB/m @ 4 GHz
--- 1.93 dB/m @ 6 GHz
- Capacitance: 95 pF/m
- Max. operating voltage: 1.5 kV
The 50Ω Suhner Multiflex 86 cable is a good compromise when you have the need of good performances with high flexibility for microwave. Performances such as attenuation, shielding and power are identical to the UT086 rigid cable used for wirings. It 's like to have the benefits of a rigid cable but with the same flexibility of a common coaxial cable, another advantage is that you can use standard connectors for semi-rigid cables because sizes are compatible.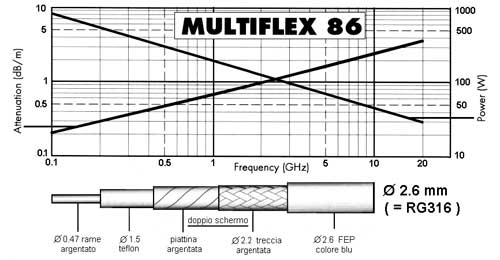 Microwave Multiflex 86 and 141 coaxial cables have the same specifications of attenuation, power handling and mechanical compatibility of the UT086 and UT141 semi-rigid types using also the same connectors.
The great benefit of these cables is the flexibility of a common coaxial cable but with electrical performances of a semi-rigid cable.