This cable can replace the Harbour Indistries SS402 model
PRODUCT DETAILS:
Jacket colour:

Blue

Jacket material:

FEP

Dielectric: PTFE
Conductor material: Copper, Silver plated
Centre conductor diameter: 0.92mm (single wire)
External diameter:

4.14mm

Impedance: 50Ω
Attenuation @ 1.7 GHz:

0.53dB/m

Attenuation @

3.3 GHz:

0.77dB/m

Attenuation @ 5 GHz:

0.97dB/m

Capacitance:

95pF/m

Max. operating voltage:

1.9kV
Suhner Multiflex 141 cable has the same dimensions and the same electrical characteristics of the 141 semirigid but with a greater flexibility, it is therefore a valid alternative to the various semi-rigid and hand formable cables that can also be used for laboratory purposes. The attenuation and the return loss values define this cable as a half way between the RG142 (see chart) and the most sophisticated professional measurement cables (such as Gore, Sucoflex etc.).
Compared to professional laboratory cables it has the great advantage of using the same connectors of 141 semirigid cables so easy to find like N and SMA connectors, so you can refer to the types suitable for semi-rigid 141.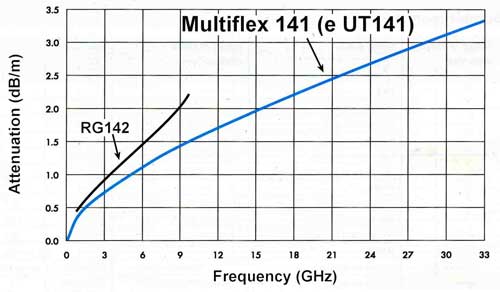 APPLICATIONS
- It is a flexible alternative to various semi-rigid and hand formable cables with same specifications.
- For wirings up to over 20 GHz.
- For laboratory applications with good quality up to 15 GHz and fair quality up to 18 GHz.
- Low attenuation (second only to the most expensive microporous test cables).
- It can also be used under severe environmental conditions, ie high temperature, lubricating oils, chemicals, moisture, crushing, etc...
- High shielding applications, for example EMI measurements and anechoic chambers.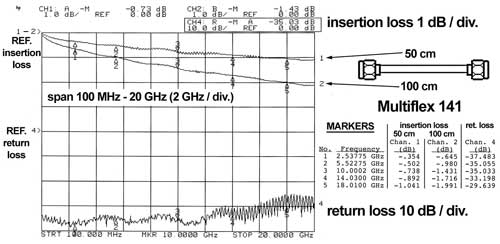 Example of performance with two cables of 0.5 and 1 m long with SMA m connectors
Microwave Multiflex 86 and 141 coaxial cables have the same specifications of attenuation, power handling and mechanical compatibility of the UT086 and UT141 semi-rigid types using also the same connectors.
The great benefit of these cables is the flexibility of a commin coaxial cable but with electrical performances of a semi-rigid cable.