3.85 nH SMD inductor, 2.4 x 1.4 mm
- Q: > 150 a 1.5 GHz
- SRF: > 7.5 GHz
- Resistance: 0.006Ω
- Current: 2A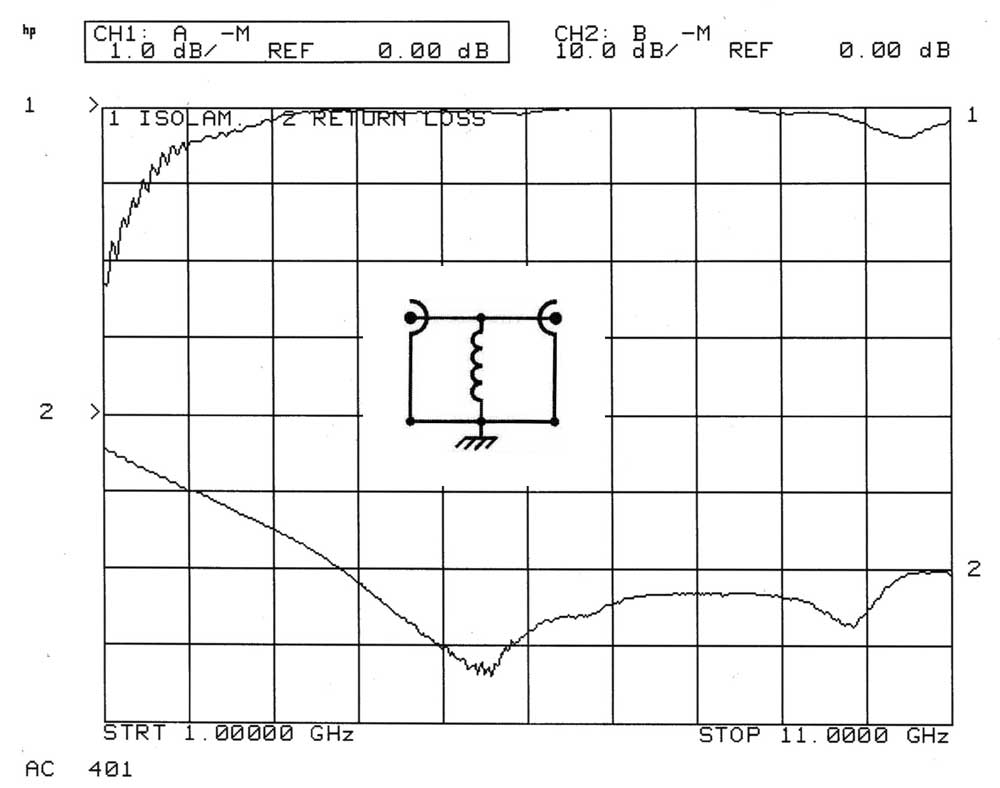 The diagram shows the behaviour of the inductance connected in parallel to a 50Ω strip line it demonstrates that the 7.5 GHz SRF is much more higher than that stated by the manufacturer.
Moreover the diagram highlights the insertion loss and return loss.
SCHEME OF CONSTRUCTION OF A BIAS TEE IN THE BAND OF 2 - 11 GHz
The bias tee is a circuit suitable to carry power to a device, for example a RF preamplifier, in a position distant from the power source, the most important characteristics of a bias tee are the insertion loss which must be as low as possible and a bandwidth appropriate for the application. With this coil it is possible to build a very good 2 - 11 GHz bias tee, here an example to ease the construction.
TYPICAL SPECIFICATIONS
- Current: 2A
- Frequency bandwidth: 2 - 11 GHz
- Insertion loss: 0.7dB (connessioni RF)
- Retun loss: >12dB
- Isolation: >20dB (connessione dc e connessioni RF)
- Max voltage: depending on the used capacitors